<![if !vml]><![endif]> Translate
THE BLOOD OF CHRIST
David L. Odom
WHAT IS SO IMPORTANT ABOUT REACHING THE BLOOD OF CHRIST?
First of all, can there be any forgiveness of sins without the shedding of blood?
Hebrews 9:22
"And according to the Law, one may almost say, all things are cleansed with blood, and without shedding of blood there is no forgiveness."
What did Jesus Christ do?
Hebrews 9:11-14
"11 But when Christ appeared as a high priest of the good things to come, He entered through the greater and more perfect tabernacle, not made with hands, that is to say, not of this creation; 12 and not through the blood of goats and calves, but through His own blood, He entered the holy place once for all, having obtained eternal redemption. 13 For if the blood of goats and bulls and the ashes of a heifer sprinkling those who have been defiled sanctify for the cleansing of the flesh, 14 how much more will the blood of Christ, who through the eternal Spirit offered Himself without blemish to God, cleanse your conscience from dead works to serve the living God?
Again, how do we draw near to this new and living way?
Hebrews 10:19-25
"19 Therefore brethren, since we have confidence to enter the holy place by the blood of Jesus, 20 by a new and living way which He inaugurated for us through the veil, that is, His flesh, 21 and since we have a great high priest over the house of God, 22 let us draw near with a sincere heart in full assurance of faith, having our hearts sprinkled clean from an evil conscience and our bodies washed with pure water. 23 Let us hold fast the confession of our hope without wavering, for He who promised is faithful; 24 and let us consider how to stimulate one another to love and good deeds, 25 not forsaking our own assembling together, as is the habit of some, but encouraging one another; and all the more as you see the day drawing near."
Romans 5:8, 9
"8 But God demonstrates His own love toward us, in that while we were yet sinners, Christ died for us. 9 Much more then, having now been justified by His blood, we shall be saved from the wrath of God through Him."
Revelation 1:5, 6
"5 and from Jesus Christ, the faithful witness, the firstborn of the dead, and the ruler of the kings of the earth. To Him who loves us and released us from our sins by His blood— 6 and He has made us to be a kingdom, priests to His God and Father—to Him be the glory and the dominion forever and ever. Amen.
But how do we reach, that is, come in contact with the blood of Jesus Christ today, in order to be justified by His blood?
Many today are teaching that water baptism is NOT necessary for salvation! They teach that 'faith only' saves us, not any works, including baptism, but what do the Scriptures of God say?
Romans 6:3, 4
"6 Or do you not know that all of us who have been baptized into Christ Jesus have been baptized into His death? 4 Therefore we have been buried with Him through baptism into death, so that as Christ was raised from the dead through the glory of the Father, so we too might walk in newness of life."
Christ Jesus shed His soul saving blood in His death, and the only place we can come in contact with His soul saving blood, is in the one baptism!
Ephesians 4:4-6
"4 There is one body, and one Spirit, just as also you were called in one hope of your calling; 5 one Lord, one faith, one baptism,6 one God and Father of all who is over all and through all and in all."
Notice that we can only be 'raised up' with Jesus when we are scripturally baptized into Christ, buried with Him in baptism! Please notice that this did NOT take place in 'faith only' without baptism!
Colossians 2:12, 13
"12 having been buried with Him in baptism, in which you were also raised up with Him through faith in the working of God, who raised Him from the dead. 13 When you were dead in your transgressions and the uncircumcision of your flesh, He made you alive together with Him, having forgiven us all our transgressions,"
Ephesians 2:4-6
"4 But God, being rich in mercy, because of His great love with which He loved us, 5 even when we were dead in our transgressions, made us alive together in Christ (by grace you have been saved), 6 and raised us up with Him, and seated us with Him in the heavenly places in Christ Jesus,"
So how do we get 'in Christ', or 'into Christ'?
Galatians 3:26-28
"26 For you are all sons of God through faith in Christ Jesus, 27 For all of you who were baptized into Christ have clothed yourselves with Christ. 28 There is neither Jew nor Greek, there is neither slave nor free man, there is neither male nor female; for you are all one in Christ Jesus."
If we are in Christ -
2 Corinthians 5:17
"Wherefore if anyone is in Christ, he is a new creature; the old things passed away; behold, new things have come."
Did you know that being 'in Christ' means being in His body, the church?
1 Corinthians 12:13
"For by one Spirit were we all baptized into one body, whether Jews or Greeks, whether slaves or free, and we were all made to drink of one Spirit."
Ephesians 1:22, 23
"22 And He put all things in subjection under His feet, and gave Him as head over all things to the church, 23 which is His body, the fullness of Him who fills all in all."
Colossians 1:18-20
"18 He is also head of the body, the church; and He is the beginning, the firstborn from the dead, so that He Himself will come to have first place in everything. 19 For it was the Father's good pleasure for all the fullness to dwell in Him, 20 and through Him to reconcile all things to Himself, having made peace through the blood of His cross; through Him, I say, whether things on earth or things in heaven."
Did you know that all spiritual blessings are found only 'in Christ'?
Ephesians 1:3
"Blessed be the God and Father of our Lord Jesus Christ, who has blessed us with every spiritual blessing in the heavenly places in Christ,"
Did you know that Jesus is only going to save His body, His church!
Ephesians 5:23
"For the husband is the head of the wife, as Christ also is the head of the church, He Himself being the Savior of the body."
ARE YOU IN CHRIST?
HAVE YOU PROPERLY REACHED THE BLOOD OF JESUS CHRIST YET?
IF NOT, HAVE YOUR SINS BEEN FORGIVEN IN THE SIGHT OF GOD?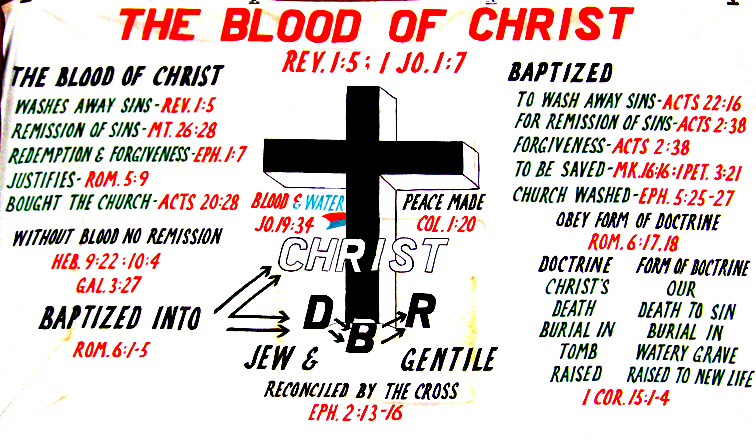 Notice the examples of conversion in the book of Acts: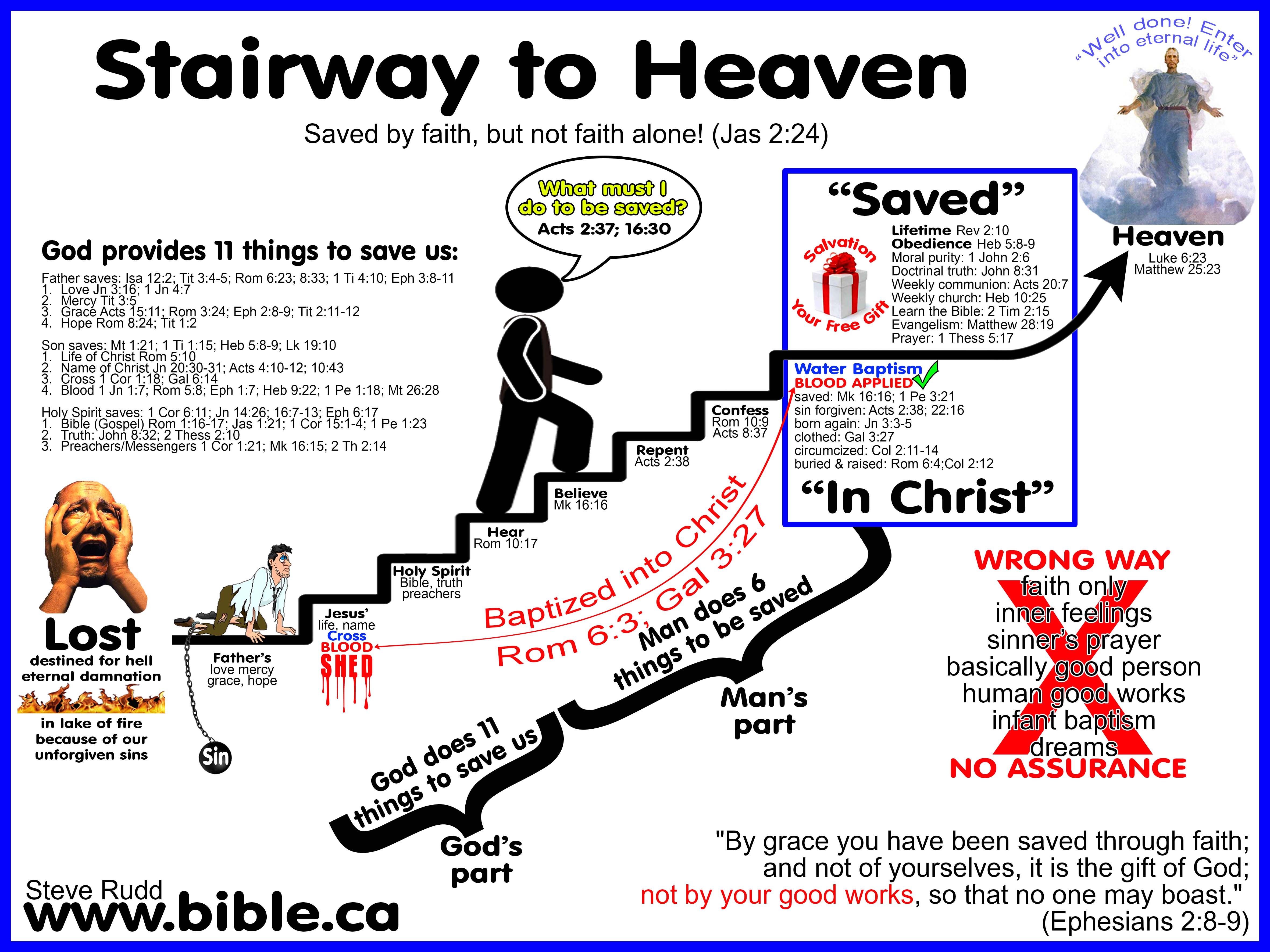 IF YOU STILL THINK THIS ONE BAPTISM DOESN'T SAVE YOU, THEN ALLOW THE HOLY SPIRIT TO CHANGE YOUR BELIEF SYSTEM:
I Peter 3:21
"Corresponding to that, baptism now saves you—not the removal of dirt from the flesh, but an appeal to God for a good conscience—through the resurrection of Jesus Christ,
The churches of Christ (non-institutional)
SEND ME AN EMAIL TO RECEIVE THIS FREE COPY OF 'THE ONE TRUE CHURCH', BY JAMES R. COPE.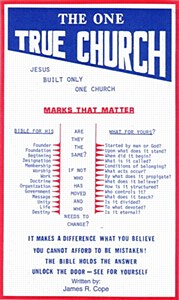 Please go to: AUTHORITY IN RELIGION
FOR MORE BIBLE STUDIES, GO TO TRUTHSEARCHER.COM
<![if !vml]>
<![if !vml]> <![endif]>